It is possible for you to launch and leave your UAV hovering at an altitude of up to 150 feet… indefinitely.
Most UAVs have limitations
Battery Change Coverage Gaps
Need for a Dedicated Operator
Blue Vigil Drone Power Tether System is easy to use and solves these problems
2. Attach to Ground Power Station
3. Set Altitude and Press Launch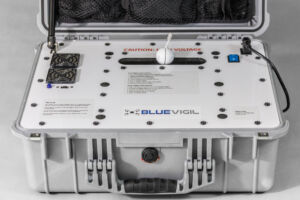 LAUNCH IT AND LEAVE IT!
Let the Blue Vigil Drone Power Tether System Work for You